Anthony David & Vera Wu
Model & Actor and Model & Computer Programmer.
Los Angeles.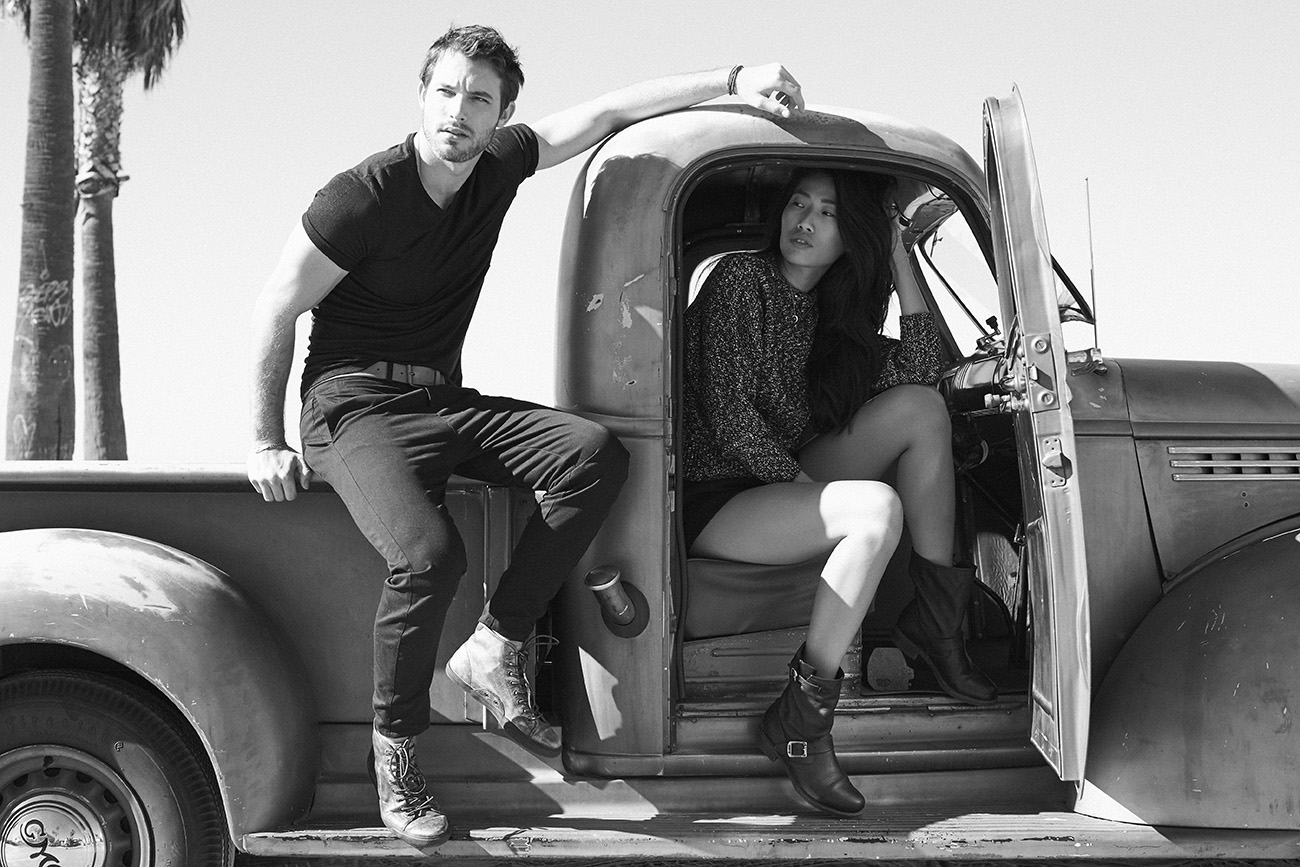 Following Anthony David and Vera Wu around the streets of Venice Beach you get the idea that turning it on for the cameras is familiar territory for the newlyweds. Towards the end, it felt less like a posed photo shoot and more like they were just playing out their cool, coupl-y lives. Not to mention mad chemistry.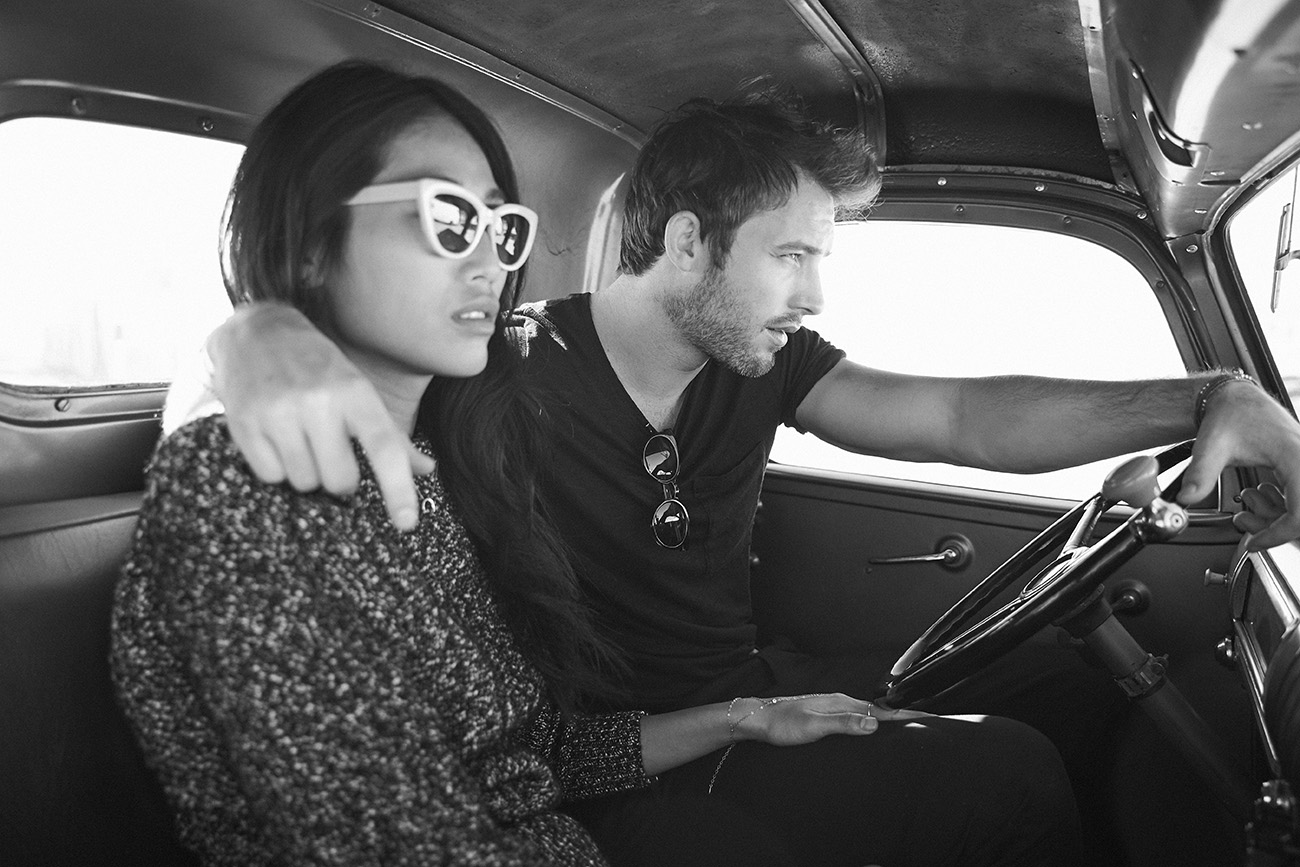 HOW LONG HAVE YOU BEEN MARRIED?
Vera: We've been married sine July 2015.
HOW DID YOU MEET?
Anthony: We met at my favorite coffee spot on Fairfax. I was wearing a ridiculous t-shirt that said, "Mustache Rides: 25$" and I asked her if I could share her table.
DESCRIBE AN AVERAGE DAY FOR THE BOTH OF YOU.
Anthony: We reluctantly roll out of bed around 8 am, we like to start the day off with a green juice or tea. Monday mornings we have a lovely farmers market just a few blocks from our apartment – we stock up on fresh fruits and veggies for the week. The afternoon is reserved for castings & auditions, but if we have a light day then we cruise over to Blue Bottle for coffee – we always have a book and notebook handy. We read, discuss our dreams we had the night before, what our plans are for the future and the places we'd like to travel to in 2016. Mid-afternoon / early evening we head to Equinox for a spin class or yoga. After the gym Vera will prepare dinner, she's an amazing cook – I'm really blessed. We're both foodies. Then we relax with some Netflix and tea before bed. Wake up and do it all over again.
EXPLAIN YOUR INDIVIDUAL STYLE.
Anthony: Classic. Anything vintage. Levi's denim, worn tee shirts, worn Converse. I've got a thing for hats. I have this old red cotton baseball cap that pretty much goes with anything. If I could pick a movie that embodies my style it would be "The Sandlot."
Vera: I used to be a tomboy. Oh well, maybe I still am. I like all kinds of effortless outfits – overalls, jumpsuits, or a hoodie with rip jeans. I love jewelry a lot. Regardless of the outfit I choose, I always like to wear chic or unique jewelry to add the finishing touch to my look.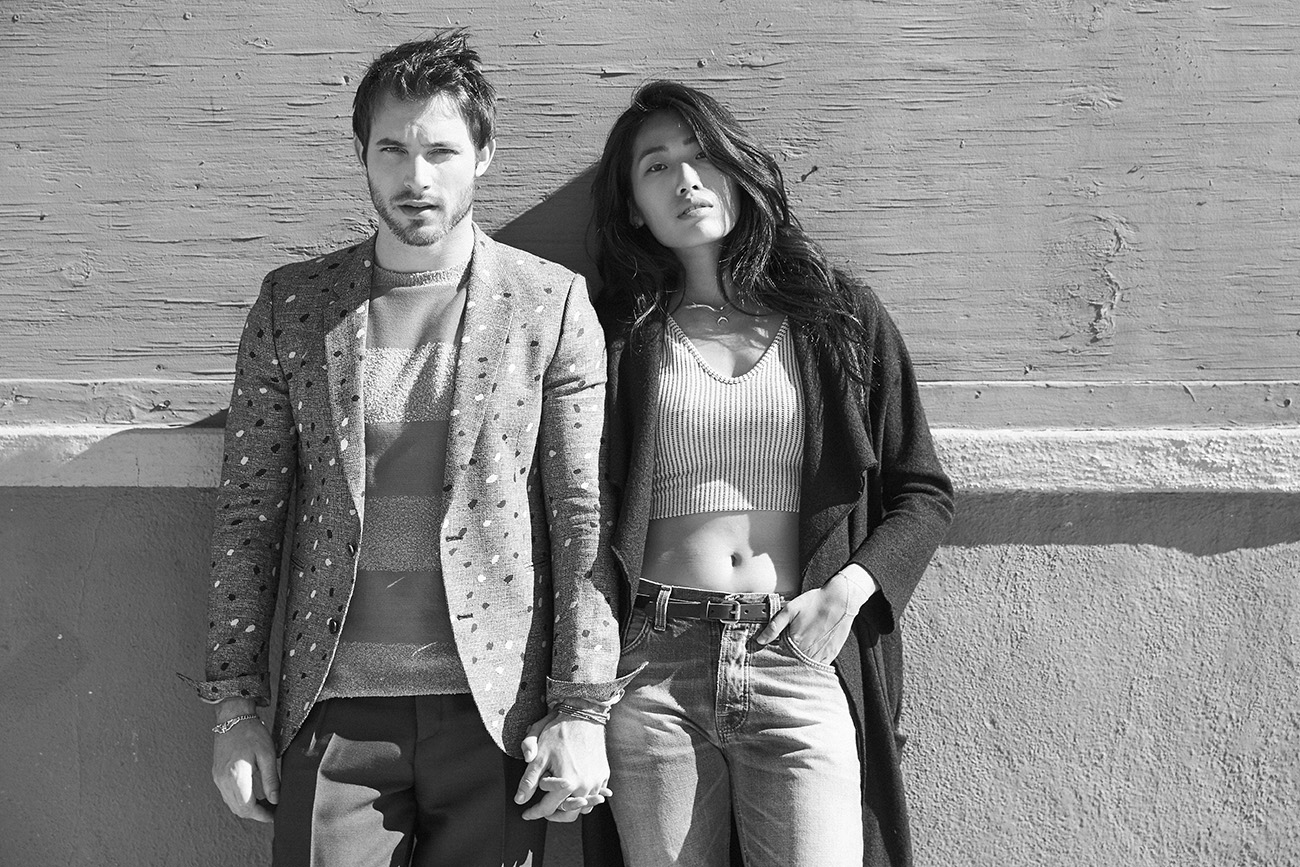 WHAT IS YOUR FAVOURITE LOOK ON EACH OTHER?
Anthony: My motto has always been, "the simpler, the better." I like when she wears a hoodie (it's usually one of mine), jeans and Converse.
Vera: Whenever he wears his worn tee with his ripped, vintage jeans, I cannot take my eyes off him. For some reason, that style just fits him so well. I think his confidence also adds more character the outfit.
ARE THERE ADVANTAGES OF BEING IN THE SAME INDUSTRY?
Vera: I used to be a computer programmer and didn't know too much about this industry. Now I have more room to respect and understand Anthony. Since day one I started modeling, I have learned a lot of valuable lessons from him. Of course, it is also nice to work together. I enjoy working with him because it's effortless –  I can just be myself.
Anthony: I've really enjoyed watching her grow as a person, as a woman. Not many people have respect for this industry. It isn't until you're in it that you truly understand what it takes to be a successful model. It's been nice to share my experiences with her, with the hope that she can avoid some of the mistakes I've made along the way.
HOW DO YOU KEEP IT EXCITING?
Anthony: I'm pretty goofy, from an outsider looking in, I might seem a bit weird. I do silly things to keep it entertaining. I like to make people laugh – especially my wife. I love when she laughs.
Vera: I enjoy exploring new places or traveling especially with Anthony, so I love to plan some adventures whenever we can. Having new experience excites both of us and also adds more memories to our journey.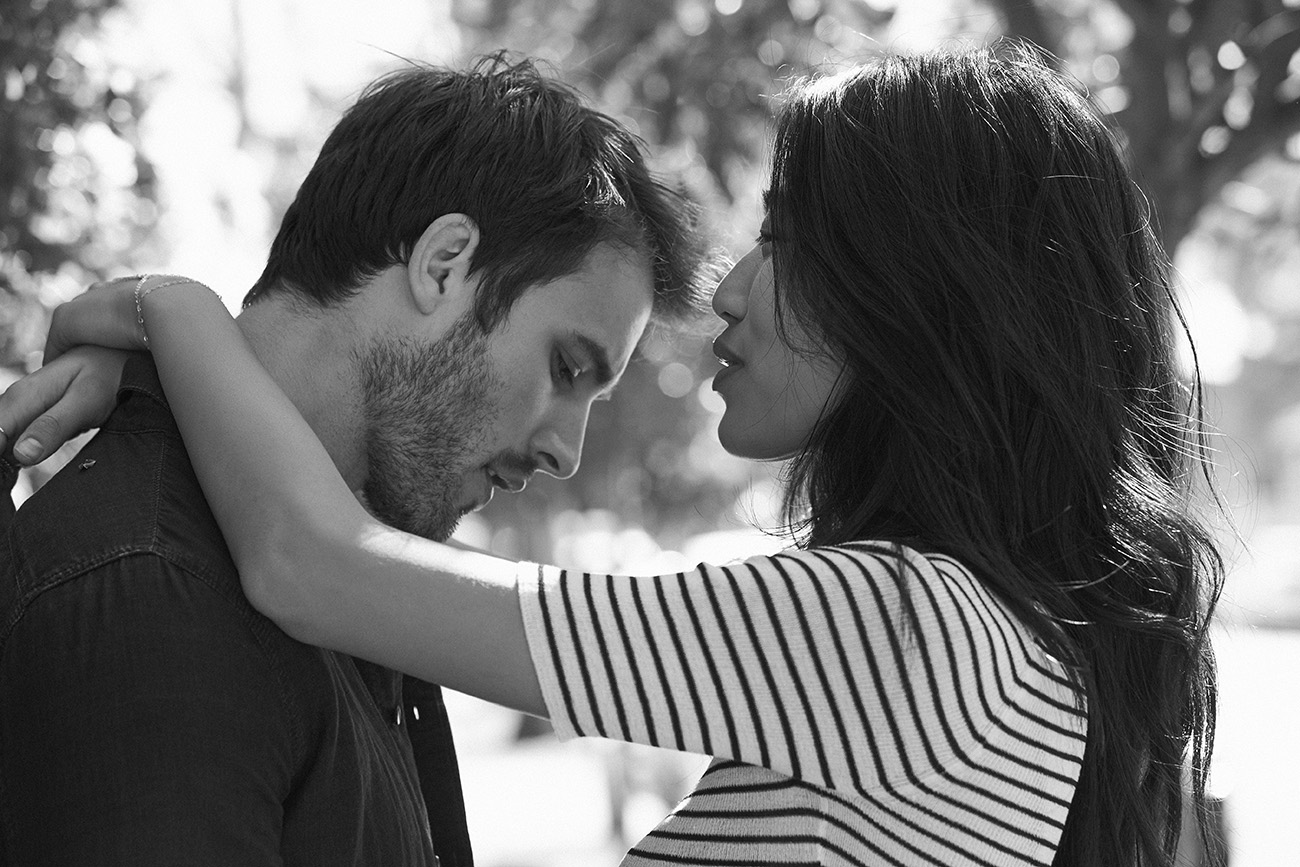 WHAT DO YOU LOVE MOST ABOUT EACH OTHER?
Vera: Anthony is a warm, adventurous, and confident person. Since we have met those characteristics have brought me out from my comfort zone to see life through a different lens. He is a very loving, attentive, and supportive husband. He cares about what I want and what makes me happy the most. That is why I love him as my partner in crime: someone who will always bring out the best in me.
Anthony: Physically, I love her hair and her lips. Those are the features that first drew me to her. But there was something deeper that brought us together. She has this energy that can light up a room. I love that about her. She is also incredibly thoughtful. She used to write me little notes, I still find them sometimes hidden in a drawer.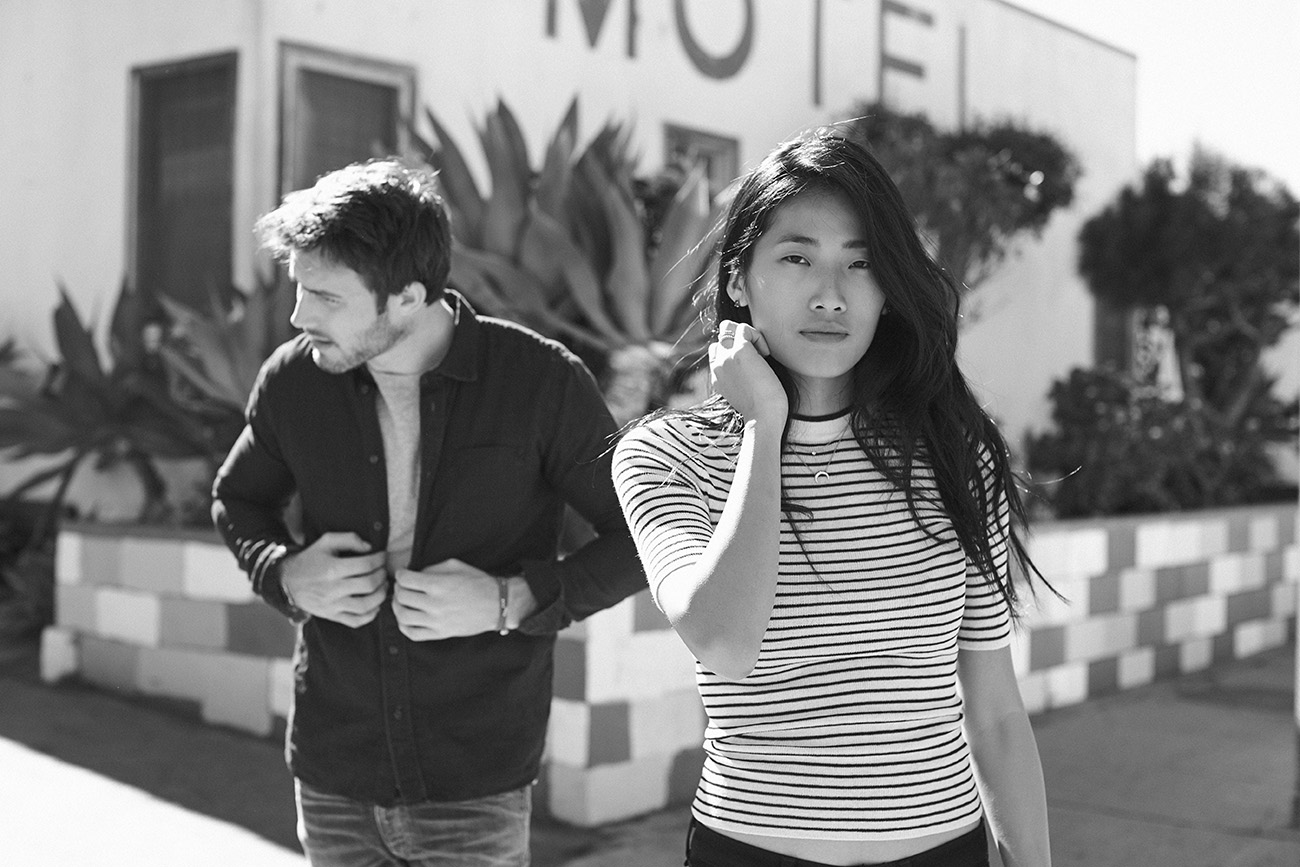 CAN YOU SHARE YOUR FONDEST MEMORY AS A COUPLE?
Vera: The time we spent in Costa Rica together. We decided to have a getaway from busy life in LA to this isolated villa in Costa Rica. It was a perfect time to be there because we had the whole villa to ourselves. We read and meditated most of the time. Towards the end of our trip, Anthony planned some hikes and fun adventures to explore this exotic place. Growing up in a city that was the first time in my life that I had ever gone hiking in the jungle. Anthony told me it would be fun and relaxing, so I did not expect a real hike! Once we got started, I realized he tricked me! However, I felt so great and proud of myself after. We also jumped into this amazing waterfall and enjoyed the water for a bit.
Anthony: She forgot to mention the part where she nearly drowned me in the waterfall. Anyways, my fondest moment so far was our trip to Taipei. It was the first time I met her family. Her dad and I bonded over motorcycles and hotrods, which was kinda remarkable considering neither one of us could speak each others language. At the end of the trip, the three of us rode motorcycles through the mountains of Taiwan – her dad lead and I followed with Vera on back as we took beautiful winding roads to the coast and back to the city. I think he was impressed I could keep up.
DO YOU HAVE A FAVOURITE SPOT IN LA TO VISIT TOGETHER?
Anthony: Our favorite date spot, where we go to celebrate and also where we like to take friends and family who are visiting is Osteria La Buca. The food is amazing, the ambiance is cool yet low-key and the staff is always friendly and attentive. We've been there so many times, we kinda feel like we're part of the family.
Vera: Besides that awesome restaurant Anthony mentioned, I also love going to the flea markets with him. We've been to most of the flea markets in LA – Fairfax high school, Pasadena City College, Long Beach, and Rose Bowl. He has a good eye for antiques, and I love seeing him doing things he enjoys.
Photography: Trevor King
Fashion Editor: Jesse Arifien
Hair & Make-Up: Ricardo Ferrise