Luke Davis
There is nothing conventional about 23-year-old surfer Luke Davis from California – since making the rare decision to go from pro to free-surfer, Davis has been living the life of luxury: riding waves of his choice, traveling the world over & campaigning for the coolest surf brands. After comp surfing for 4 years straight, he grew hesitant to place himself into that world: "After all the events, it became too draining. I thought, 'if I don't have to do this, no one is forcing me', I was done with it", he says.
Though a heartthrob amongst his young fans on Instagram, the stylish surfer reveals that he didn't intentionally seek out such attention on Instagram, and during our shoot with Davis in Los Angeles, it became evident that, despite his Gosling-esque looks, his true appeal lies in his realness and imperturbable attitude to the world.
WHERE DID YOU GROW UP?
San Clemente, the last town in Orange County, right before San Diego. It's a little beach town, pretty mellow and the furthest thing from LA, which is why it's a nice place to go home to.
WHAT'S YOUR FIRST SURFING MEMORY?
I was 3 years old. Dad took me out in a lifejacket. It's always been in my blood and one of my first memories 20 years ago.
WHAT TRIGGERED THE DECISION TO BECOME A FREE SURFER?
I was competing for most of my life since I was 8 years old. I reached a point where I was traveling and not having that much fun. The waves were average and I was forced to go to places I wouldn't normally go. Now my schedule is pretty open ended, I go on strike trips last minute and run around and have fun.
IF YOU'RE ARENT COMPETING IN COMPETITIONS, AT THIS POINT, FOR YOU, WHAT DO YOU GET OUT OF SURFING?
Being in the position where no one's forcing you to do the comps is pretty rare in the first place. I get to pick the places I'm going. I mean, I would surf anyway, as I've been doing it for as long as I can remember, so getting paid to do something I love – that is the goal really!
It's always quite a spiritual experience for me, surfing, what you get out of the ocean is unlike anything else you can experience. You tend to sound like a tripper to someone who doesn't know. For me, it's the happiest I've been in my life when in the ocean – the feelings are pretty crazy.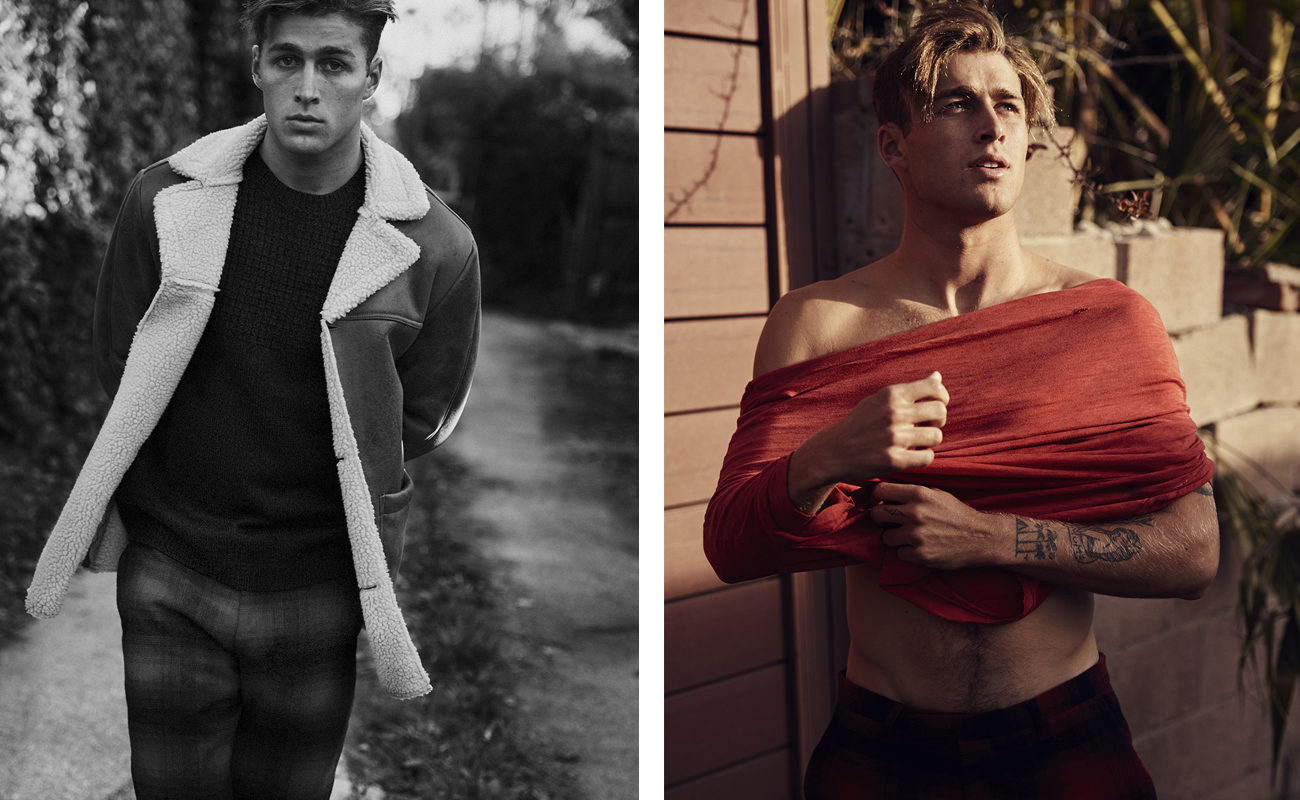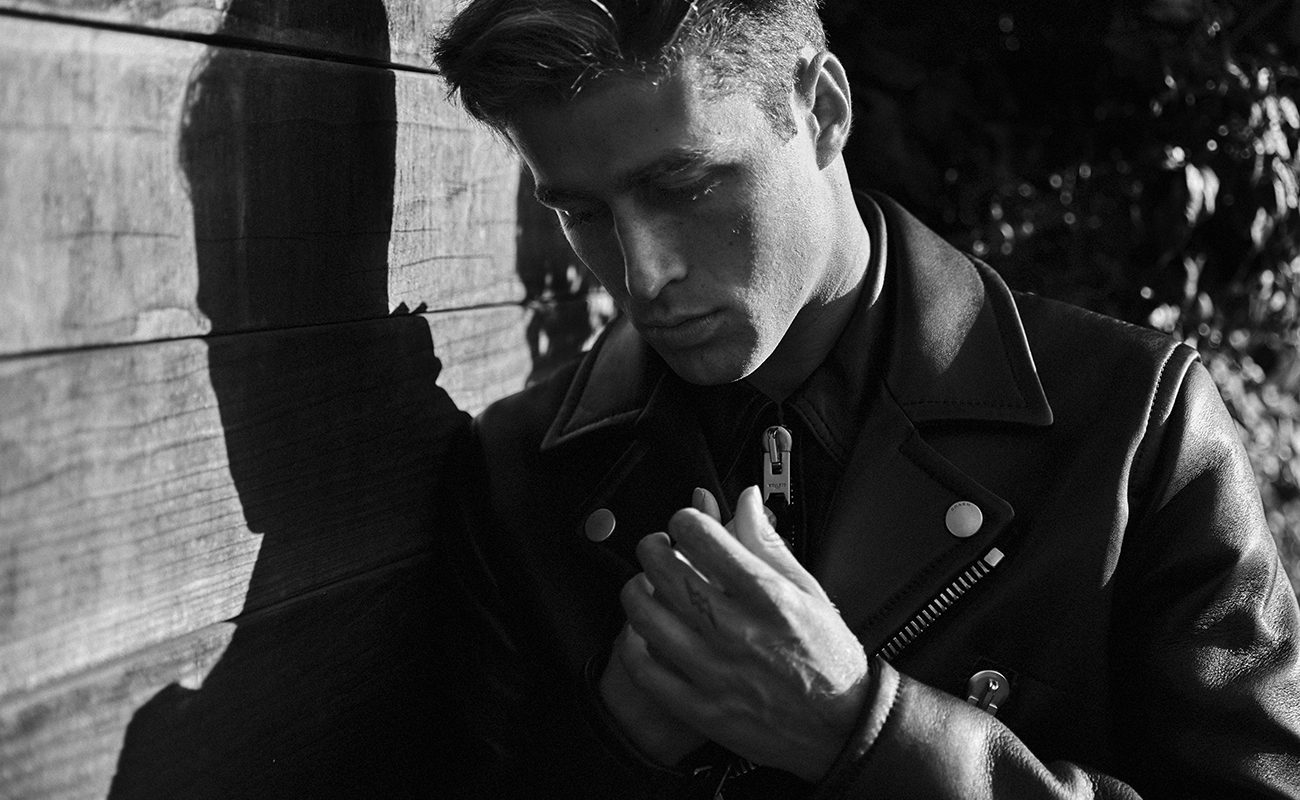 Leather top & jacket, both by Coach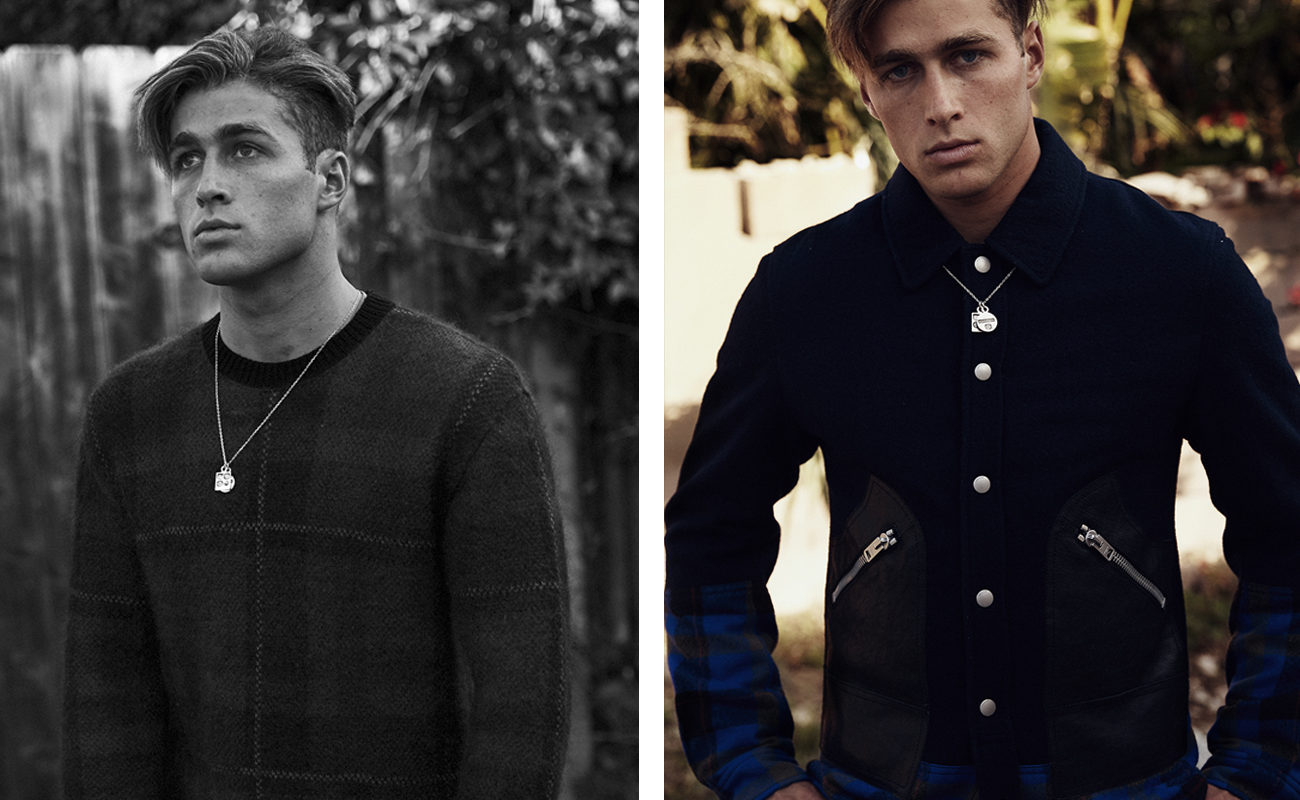 Knit, jacket (right) & necklace, all by Coach
YOU COME ACROSS AS QUITE A FUNNY GUY ON INSTAGRAM, HOW WOULD YOU DESCRIBE YOURSELF TO PEOPLE WHO HAVEN'T MET YOU?
Kind of crazy. I think my friends think I'm crazy, I try to be transparent. Social media is weird because it's a look into your life but it's only what you want people to see, so people portray you for what you do on social media. That's a strange thing. I'm not trying to be that person who thinks about their social media and captions, I don't try to think about anything too much –  I do things on the fly.
AND YOUR PERSONAL STYLE?
I have done some weird things over the years- I was dying my hair for a while. In the surf industry, it's not normal to see orange or pink hair. I'm also into glitter and glitter gels, which is pretty odd. I guess, I take risks but don't follow trends, I don't care what people think besides the people I look up to.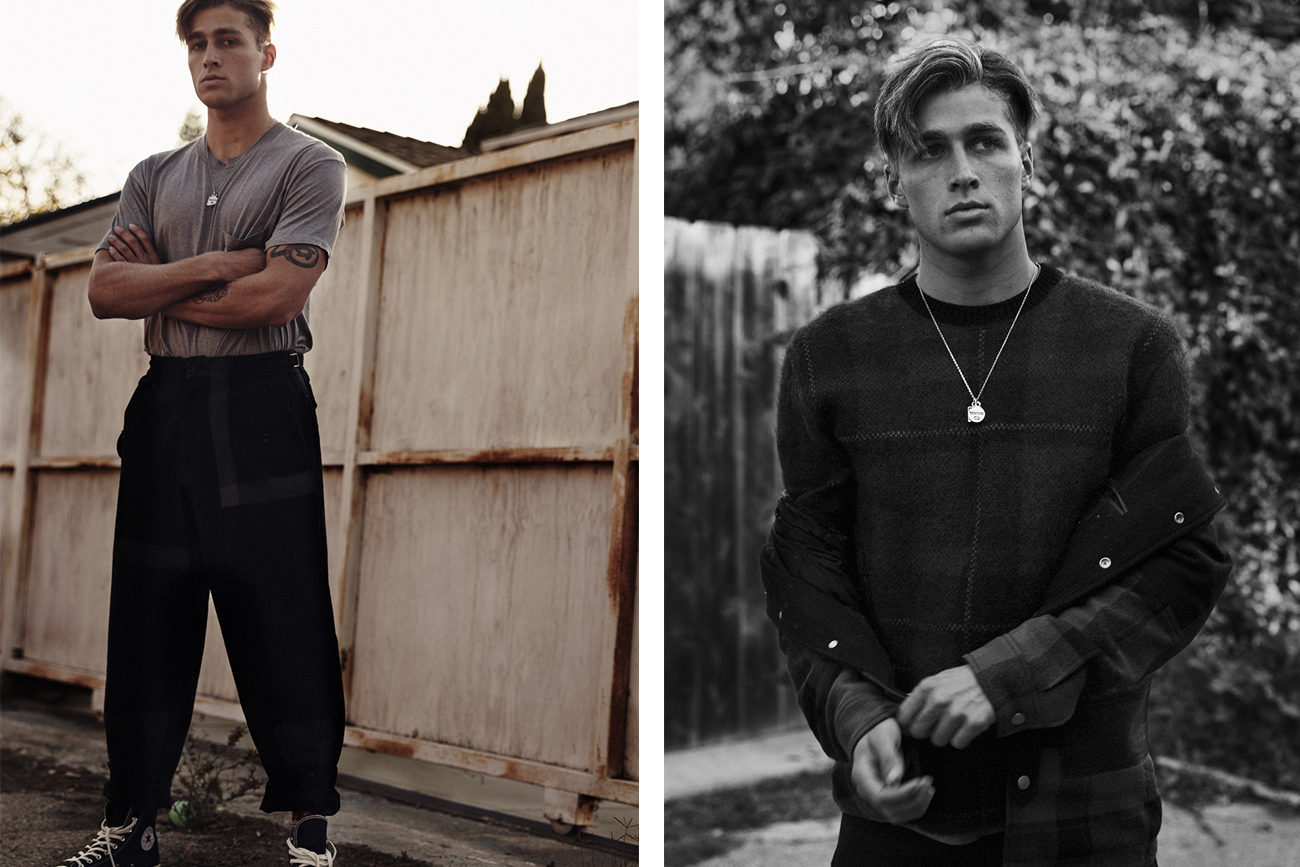 SPEAKING OF CRAZY HAIR, DO YOU HAVE  A STRICT GROOMING REGIME?
I am pretty laid back with grooming. I do as I go, no routine. I use BYRD hair products, they're easy to use for on the go and getting in and out of the surf.
ARE THERE ANY SURFERS YOU LOOK UP TO?
Kolohe Andino is a close friend of mine who I grew up with. He's top 5 in the world and is very inspirational. We have been best friends since I was 9 years old and he has pushed me my whole life.
DO YOU HAVE A FAVOURITE SURFING DESTINATION?
I love Bali. I'm going to go travel within all the islands next year.
In Exclusive Collaboration with BYRD
Photography Sylve Colless
Styling & Interview Jesse Arifien