Living : Grand Traveller
5 Romantic Stays in Bali
Some holidays are action-packed with a full itinerary, while others are a little slower, centred around stillness and relaxation. When you've got the right company a holiday that switches off the noise of everyday life is the best to indulge in, especially with your significant other. When relaxation is on the cards high-quality accommodation is paramount. These 5 secluded destinations in Bali, Indonesia sure rise to the challenge.
1Ametis Villas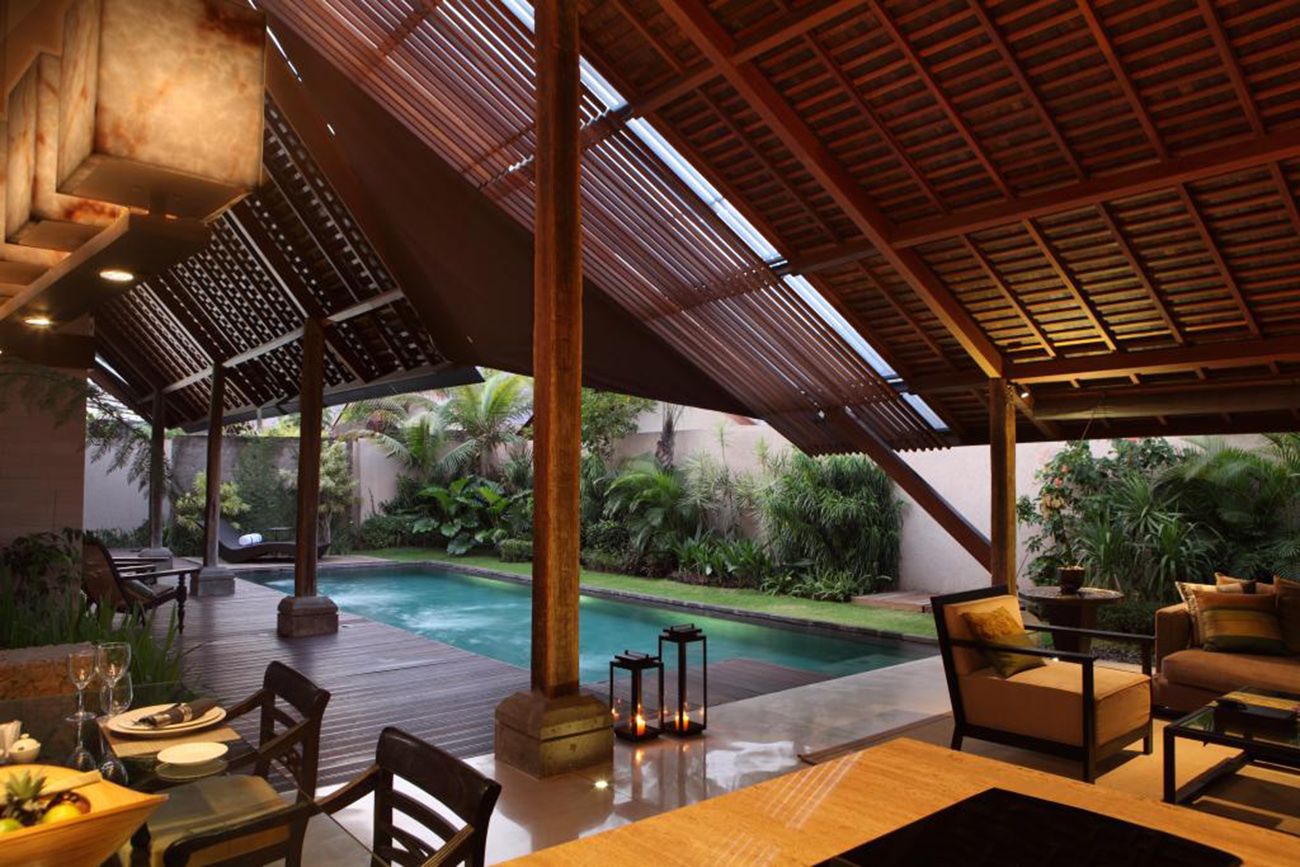 This haven is a testament to Bali's beautiful surroundings and maximum privacy of a tropical destination. All visitors are treated to their own private villa – a private sanctuary with everything you could need. Each secluded villa boasts an airy, light-filled living space and the luxury of a private pool. To minimise your worries for your romantic getaway with her, a personal butler is complimentary with each villa to act as your holiday planner and all-purpose genie.
DO & SEE
The beauty of Ametis is that you don't have to leave your villa. Take advantage of the private pool, cooking dinner in the full-size kitchen and retreating for a cosy night, snuggled in front of the flat-screen TV, which offers a selection of free movies.
Try the ruby spa treatment, a couples indulgence. It begins with ten minutes of meditation followed by 60 minutes of Balinese massage bliss. Finish off with a refreshing mulled orange and cinnamon fruit bowl and lemongrass tea.
Unfortunately the dining does not live up the 5 star service here. Luckily the the villa is a mere five minute walk to Canguu main beach and restaurants. The Seminyak and Canguu areas are known for their great eateries so I would definitely recommend you stretch those legs, hop on a free, Villa-provided bicycle and ride down there for your meals to get the best of both worlds.
PACK
Shoes for getting around on a motorbike and casual attire such as swim shorts and tees in breathable fabrics. Nothing too fancy where dress code is concerned.
Ametis Villa
Jalan Pantai Batu Bolong, Canggu, Kuta, Bali | www.ametisvilla.com
2Karma Kandara
The spectacular setting of Karma Kandara sets the tone for this pleasure-filled resort experience. The epitome of resort luxury. Perched on a cliff top, the vista of the resort's private beach club, Karma Beach Bali, and the ocean greets your eyes/invigorates all your senses, the bustle of the world left behind. Depending on how much you're willing to spend the resort has 1 bedroom villas to 5 bedroom grand cliff front residences.
DO & SEE
You can do as much or as little as you want at Karma. There is no need to leave the resort. Take advantage of the activities on all week including private cooking classes in your villa, yoga on paddle boards, kayaking, and many more. Then head over to the world class spa for a massage followed by a spa nestled on the cliff overlooking the ocean.
For sunset take the inclinator down to Karma's private beach located 150m down the cliff for a cocktail and meal in your own cabana right on the sand. There is also an outdoor cinema on selected days inviting guests down to the sand to watch the latest movies at dusk.
PACK
Some summery smart shoes and a cool crisp linen shirt.
Karma Kandara
Jl. Villa Kandara, Banjar Wijaya Kusuma, Ungasan, Tuban, Bali | www.karmakandara.com
3

Alila, Uluwatu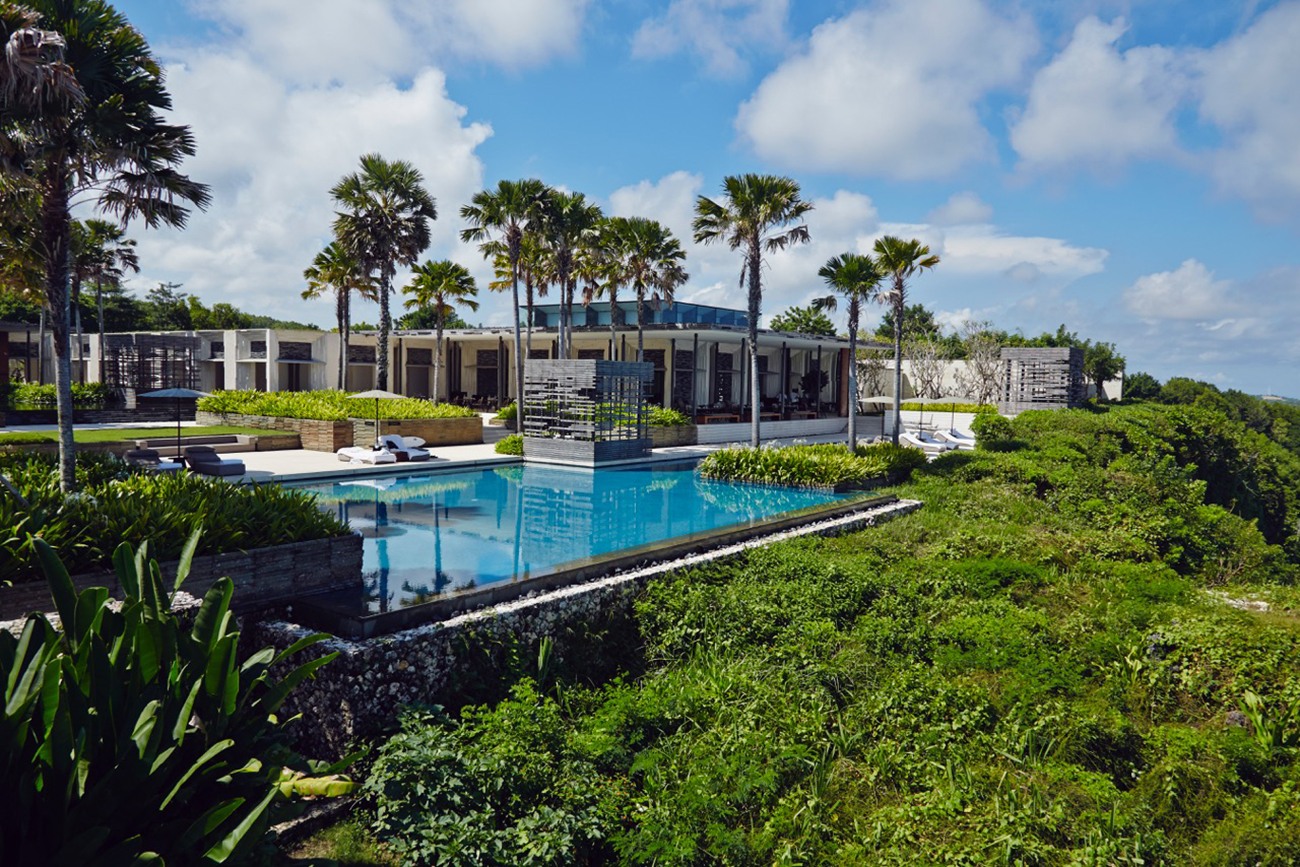 Situated on an elevated plateau that meets with limestone cliffs sweeping down to the ocean, the panoramic views from the Alila Villas Uluwatu is, to be modest, breath taking. There is a particular enchantment to this place with a feeling of seclusion. A special choice for honeymoons and those seeking a non-conventional experience of Bali. Each opulent private villa opens up through large wooden doors – an open plan is revealed and a private pool with the statement cabana. Again, the visual vibe inside the villa complements the overall design of the resort yet still retains charm and individuality. Simple, beautiful, and any woman's dream.
DO & SEE
Be sure to walk around and explore the grounds and take in the architecture and design. Dine in the evenings. CIRE Restaurant offers a private dining experience in your choice of the pool and oceanfront cabanas. In true Balinese style the staff go out of their way to make this experience special, lighting the steps up to the cabana with banana palm wrapped candles. Sample the set menu to add an element of spontaneity i.e.. romance.
Breakfast at the Alila is a must with the menu changing daily, offering a range of small dishes designed to share. After your meal and a dip in the infinity pool overlooking the ocean, treat yourself to a Balinese lulur body scrub at the world renowned spa. The treatment- an ancient village remedy originating from rice farmers. A great thing to do as a couple.
PACK
Be sure to include a collared shirt and a nice smart shoe. Although this is place is far from obnoxious you will at some stage be wishing you bought that smart piece to match the resorts extravagance. Also pack a proper camera to capture the scenery for some spectacular memories.
Alila, Uluwatu
Jl Belimbing Sari Banjar Tambiyak, Desa Pecatu, Bali | www.alila.com
4

Four Seasons, Jimbaran Bay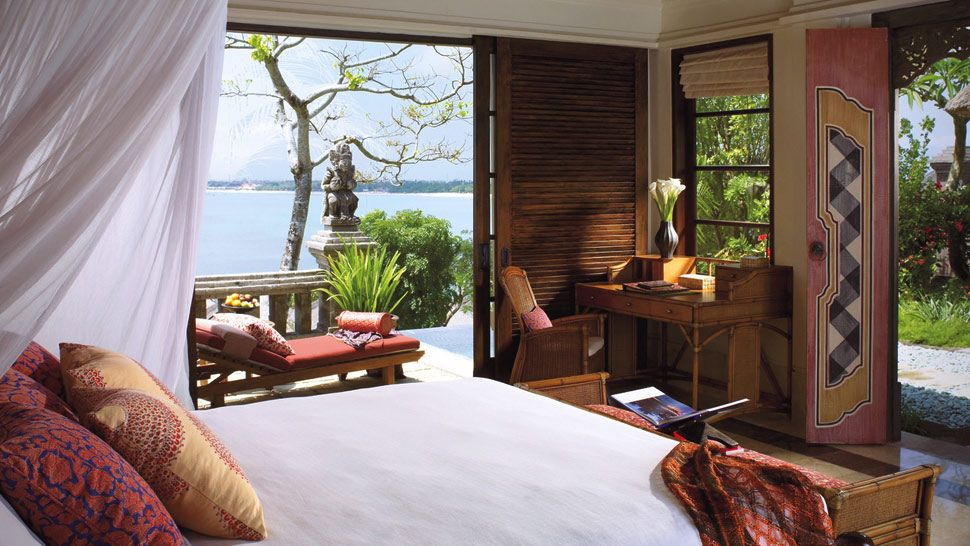 Set within a stones throw from Denpasar airport lays the timeless, traditional, extravagant and peaceful destination that is Four Seasons. A golf buggy awaits to take you to a secluded little haven with each villa individually positioned. Villas include a private swimming pool, outdoor shower, outdoor dining and lounge area and a large (very comfortable) king sized bed. Despite the resort's size being more reminiscent to a village than a hotel, you are instantly transported into a private paradise.
DO & SEE
Indulge in a selection of cocktails available at Sundara Bar-the Four Seasons Restaurant and Bar with Indian Ocean views. Order a cocktail made by their Spanish mixologist all presented to you by the wait staff on a tablet/ipad. After drinks, move upstairs to the restaurant on the couch area by the pool. The Sundara Restaurant specialises in grilled imported meats and steaks, local seafood and special dishes for two – an Australian head chef calling the shots.
Head down to the Sundara Beach Club to work off your buffet breakfast and partake in a range of free activities and beach sports on offer.
PACK
A polo and nice shorts for Cocktails at Sundara. No need to pack sunscreen with the staff at the main pool ready to offer you complimentary bottles.
Four Seasons, Jimbaran Bay
Four Seasons Jimbaran Bay, Jimbaran  | www.fourseasons.com
5

Hanging Gardens, Ubud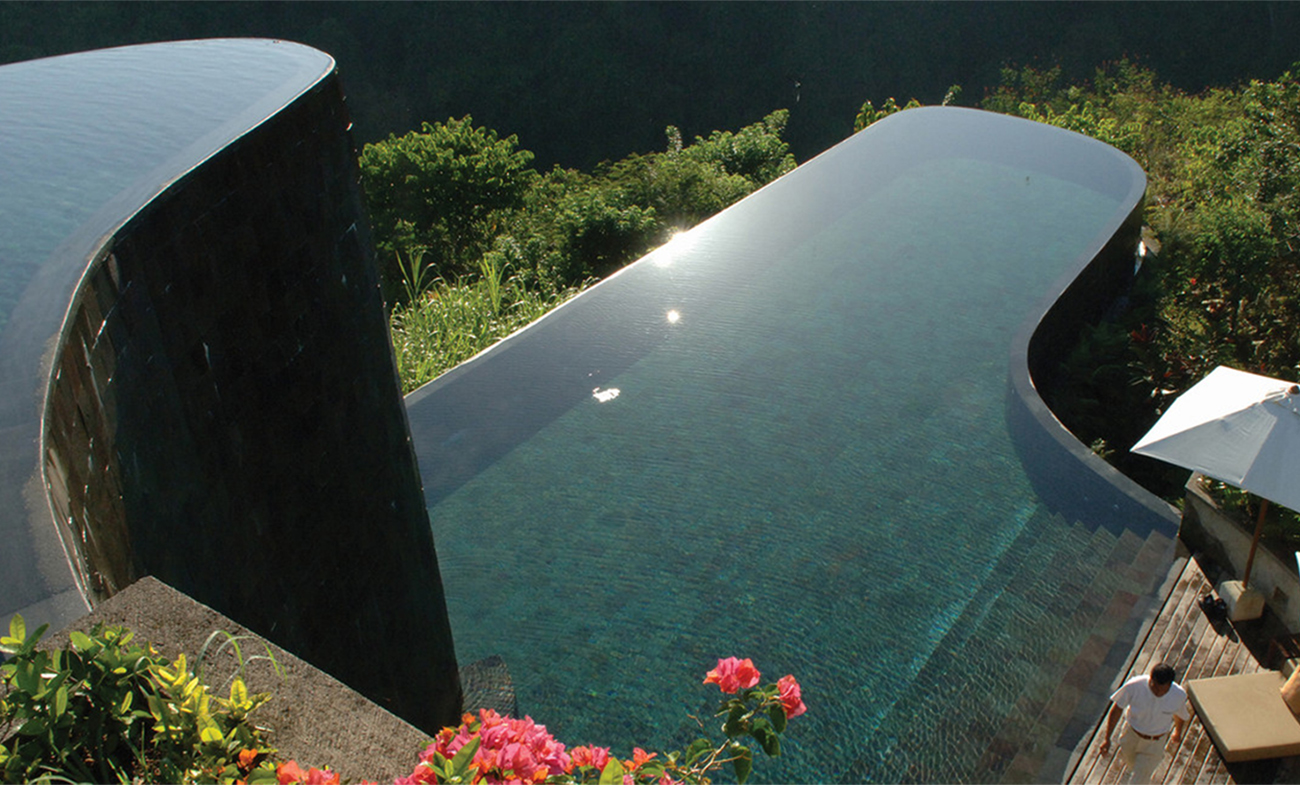 The Ubud district is Bali's major arts and culture centre, located amongst the islands rice paddies and steep ravines. On of the districts best resorts, Hanging Gardens is both enchanting and serene. Nestled within the lush mountains lies a magnificent delight encased deep in the jungle. Set high in the mountains, the resorts main feature is its two infinity pools- named some of the most spectacular pools in the world.
DO & SEE
Ensure you book the villa suite, designed in contemporary balinese style with an ample terrace adjacent to an infinity pool. Adventure out and explore the rice patties with the resort offering morning walks focusing on nature's influence on Balinese wellness.
Do the noble duty of treating your lady to one of the many romantic packages on offer. My pick is 'Romance under the stars' – an extravagant candlelit dinner on your own private water bale floating in the infinity pool. Whip off your shoes, climb on board and enjoy your own delicious feast delivered by two waiters – all meals are prepared and presented in two's spread out on trays between a two lounge seat under a fabric tent.
On the menu is; Jimbaran lobster Maki roll with pineapple Sambal and Japanese egg custard, seared scallop with herb salad, spicy yellow fin tuna and beef salad, papaya salad, golden bags of chicken and prawn, Tom Yam bisque with salmon, prawn, calamari, mushrooms and lemongrass, tiger prawn satay and finally Nasi Goreng.
Finish off the evening by firing a paper lantern from the pool deck into the sky then head back up to the bar and sample the mango and strawberry panna cotta; sweet basil crème brulee; chocolate cremeux and exotic seasonal fruits; a perfect end to a simply wonderful night under the stars.
PACK
Sports wear and runners for walking and possibly hiking.
Hanging Gardens
Desa Buahan, Payangan | www.hanginggardens.com