Living : Food
Top Sydney Restaurants to Entertain Clients
Words Mathew Lennon
The age-old act of breaking bread with clients and colleagues is more important today than ever. As it becomes more common to do business behind a computer screen the value of taking work out of the office environment and connecting on a more personal level is infinite; these top establishments offer the perfect setting to do this.
1Riley St Garage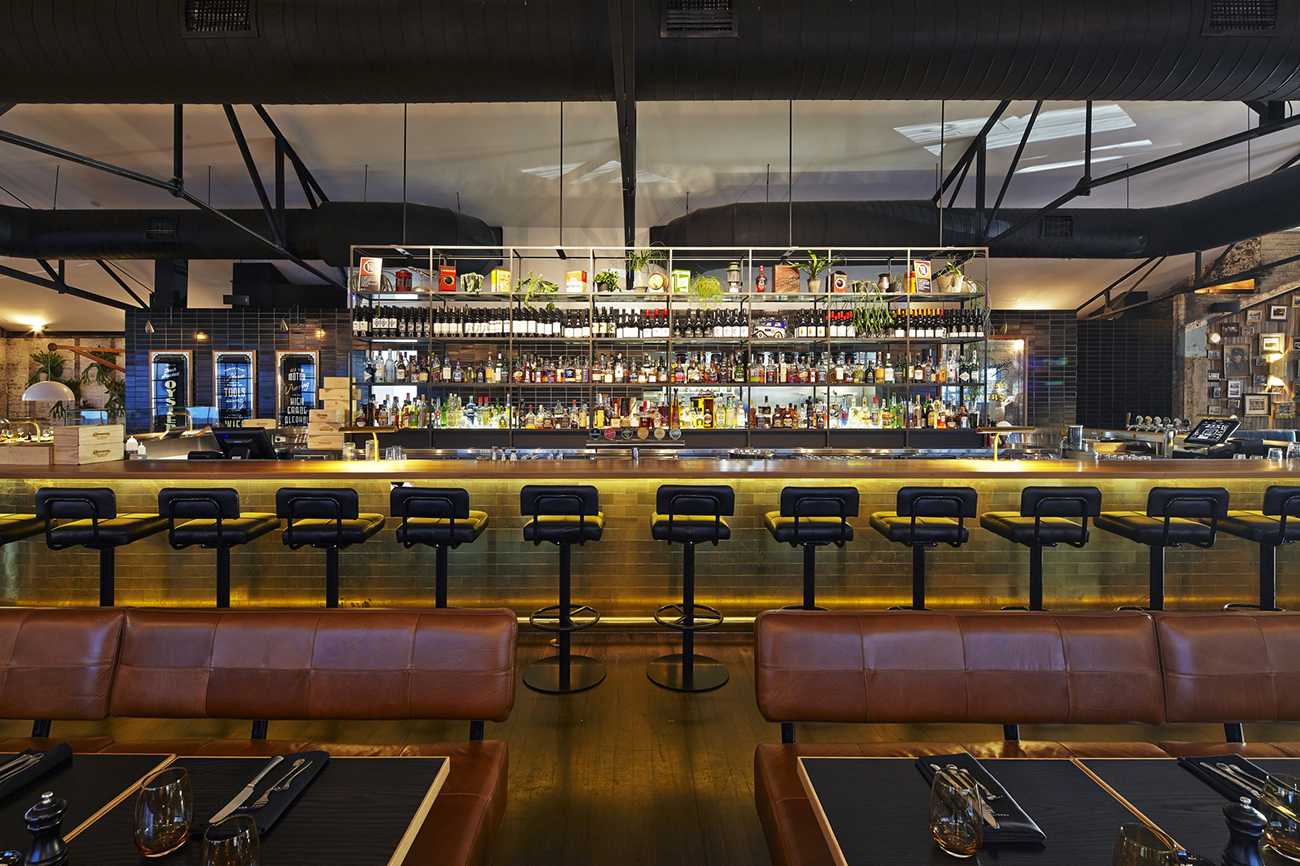 Located just around the corner from the buzz of Williams street in Woolloomooloo, Riley Street Garage opened its doors in 2013. The space, an expansive and ambiantly lit mix of steel and stone was originally built in the 1930's to house Lessey's Drive Yourself – a car hire business. Riley St is an exceptional venue to entertain clients and engage with colleagues.The warmth of the space and the staff are both immediate as you walk through Riley Street's doors (our waitress Carolina was particularly incredible). The atmosphere is electric, providing enough background chatter to ease any awkward lulls in dinner conversation yet spacious enough to afford a sense of intimacy to diners. There is also a definite element of cool to this urban establishment, which will leave clients thanking you for the experience. For large groups, I recommend requesting the round table located at the rear of the restaurant. And finally, don't forget to tell them that Oliver Grand sent you!
ORDER
Opt for the tasting menu, if your fellow clients are willing to share, this will get you a little bit of all the best parts of the menu. Highlights include the Smokey soy truffle Oysters which are served almost as beautifully as they taste, the Spinach ricotta ravioli – paired with a decadently delicious burnt sage butter and of course the main event a Crispy pork knuckle served with soy mustard, pickled apple and truffle mash. For dessert, which is also included in the tasting menu, everyone will love the honey comb and the Liquid lemon cheese cake.
Order your client or colleague a Peppermint Tom Margarita (a house special) and perhaps toast to a new deal, a successful quarter or whatever you may have to celebrate. This smokey twist on a classic margarita is also certain to make the night an animated one!
DRESS
In a semi-formal trouser paired with a freshly pressed shirt and classic derby shoe. Depending on the season and formality of the occasion this look can also be easily dressed up with a slim cut blazer.
Riley St Garage
55 Riley St, Woolloomooloo  |  www.rileystgarage.com.au
 2The Bridgeroom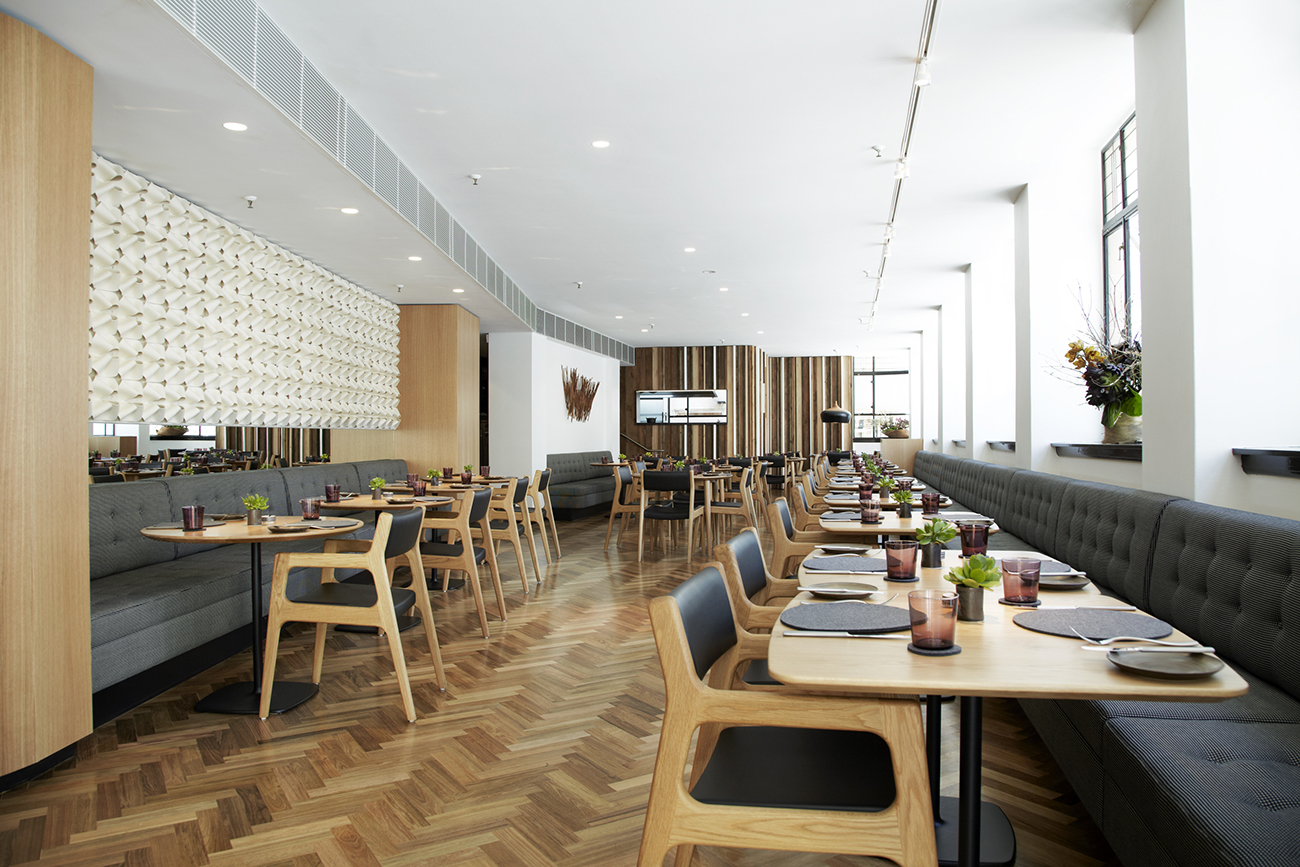 The Bridge Room achieves the rare feat of showcasing high calibre cuisine within an airy, light-drenched environment that is perfectly suitable for your 21st Century business lunch. The interior décor combines clean-lined modern furnishings with playful textural accents (grey felt placemats are a particularly interesting touch); it's pleasant but certainly not boring, with a lively and non-intrusive lunch hour buzz. Much like its food, The Bridge Room dining experience is best savoured slowly and carefully (perhaps while closing that key business deal over dessert). It's a restaurant that radiates the quiet assurance that you can leave, satisfied, on all fronts.
ORDER
Subtle, harmonious flavours, with a light touch of Asian flair appears to be The Bridge Room's modus operandi, befitting head chef Ross Lusted's culinary background.
The grilled Southern calamari entrée, featuring the signature Japanese robata charcoal grill, is a standout! Begin your entrees with a bottle of Emmanuelle Mellot Pouilly Fumé Sauvignon Blanc 2012 from the extensive drinks menu. On the menu is also the ash grilled duck; definitely for those who prefer their proteins fairly rare and rich. It's cut through with sharp, almost bitter vinegar that needs to be paired with the sweet radicchio puree and sherry-cooked raisins.
Deconstruction and texture is The Bridge Room dessert theme and the major test is how skillfully you can gather all the ingredients in one bite while appearing dignified. The whipped black sesame may be an acquired taste for some, but is definitely worth trying. Otherwise end your meal with the passionfruit ice cream, which was a reliable palate-cleanser, full of fun textures.
DRESS
Smart. You would not be remiss by showing up in full business regalia, but loosen the tie (or lose it completely) and judgmental eyebrows will not be raised either. Go for a relaxed collared shirt worn under a simple tailored suit.
The Bridge Room
44 Bridge St, Sydney  | www.thebridgeroom.com.au
3The Lemon Tree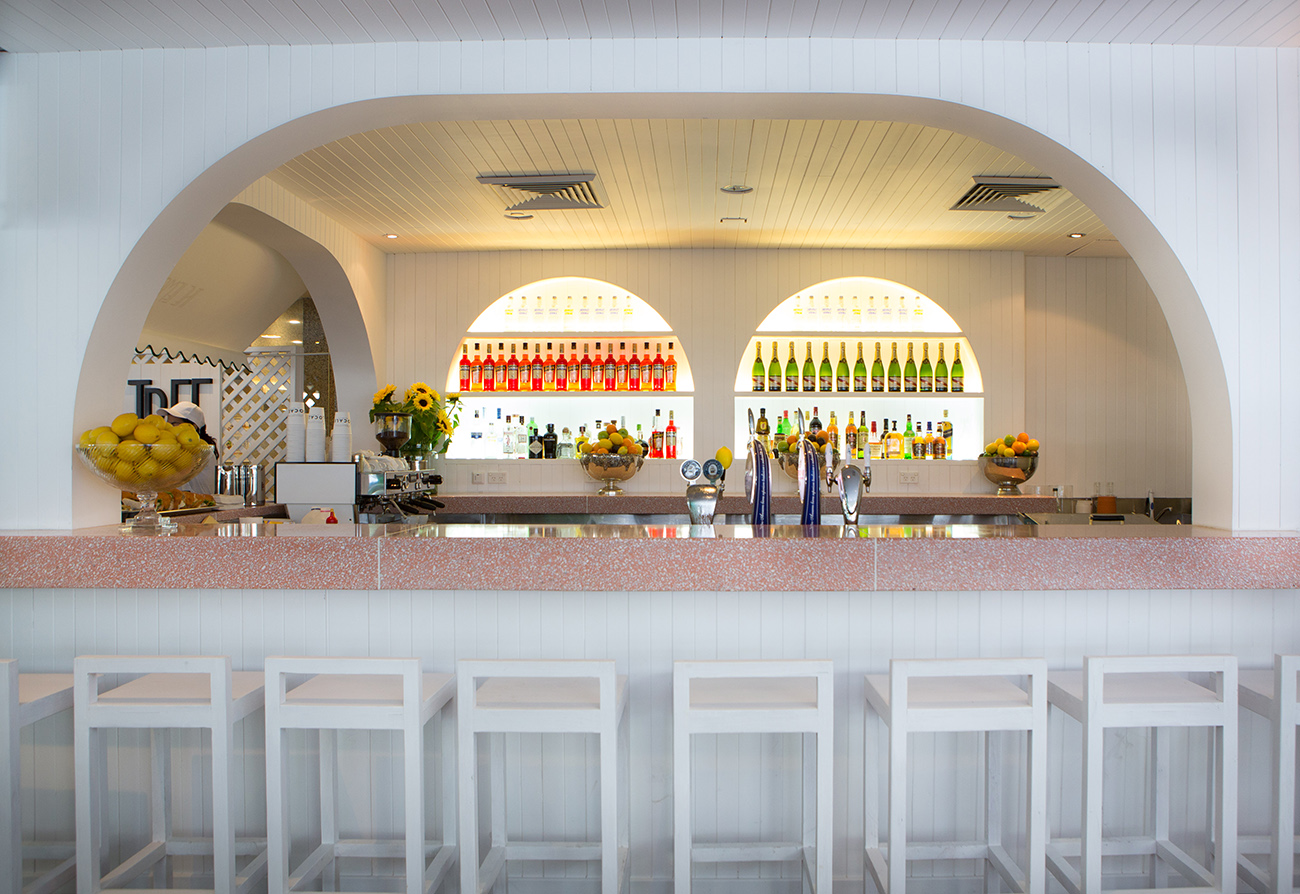 Lemon Tree is a little taste of Positano set in the heart of Sydney's business district- Australia Square. The sophisticated yet casual 150 seater is a result of seasoned trio;  Kate McMahan (Catalina), Tim Holmes à Court and Daimon Downey (Pelicano) . Serving up excellent southern Italian fare in elegant relaxed surroundings; this pleasant eatery is a win-win for a lunch or dinner business meeting.
ORDER
My picks are the Veal Milanese, Lasagne di Carne, the fries with parmesan and oregano and the (traditional but not overlooked) insalata caprese. If you are feeling extra peckish, the Antipasto plate will serve you well as a starter. You can't go past the Marias Tiramisu for dolce (dessert), arriving at your clients table; a generous creamy serving ready to be devoured.
The classic Italian-inspired Catalina Martini is a winner for drinks. Beefeater gin, aperol, fresh lemon juice and fresh orange – a great kick start to your meal. Continue on selecting from the very accessible wine list, with 10 white and 10 reds to choose from.
DRESS
Nonchalant. The vibe will dictate your mood so opt for a shirt, light coloured chino and loafer combination.
The Lemon Tree
Australia SQ 264 George St, Sydney | www.thelemontreesydney.com.au
4Morrison Oyster Bar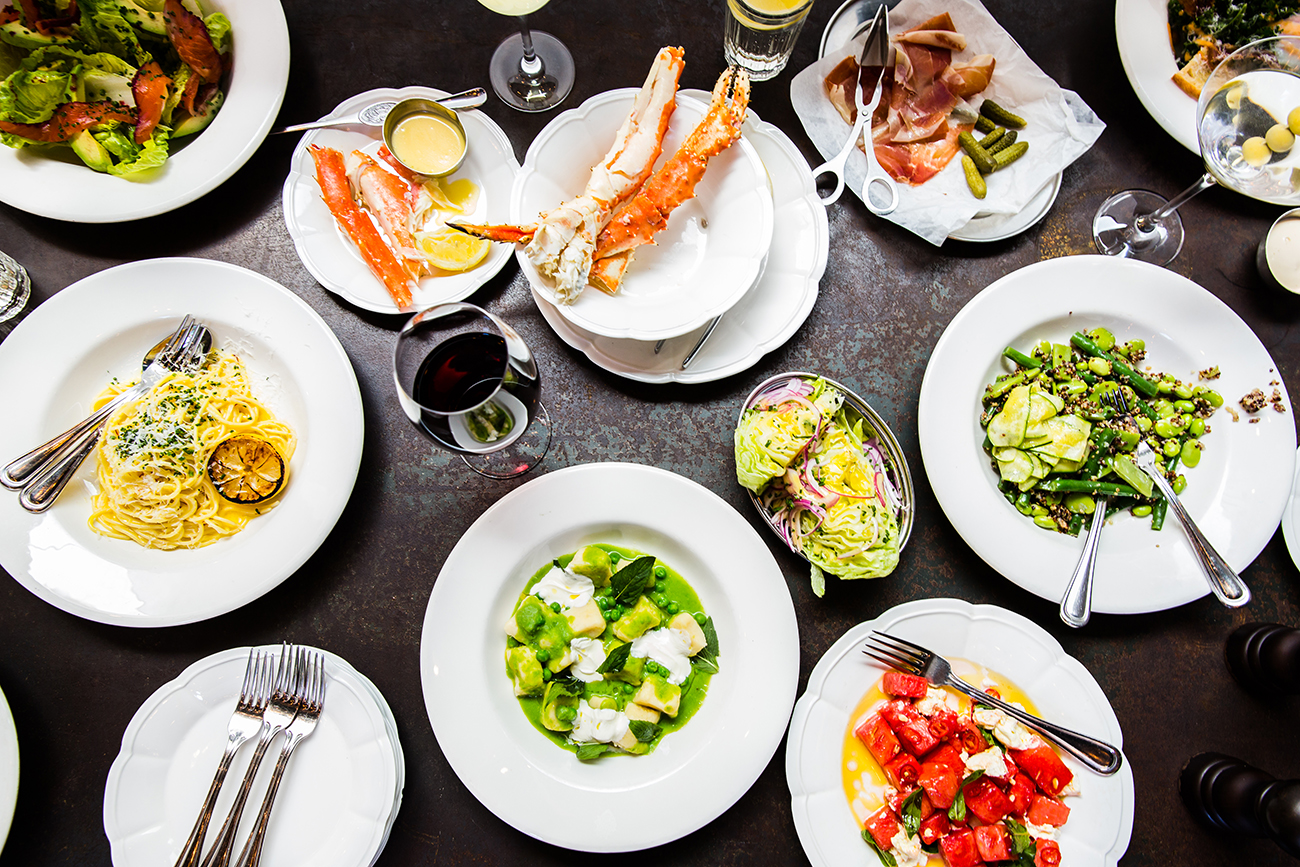 Set on the lower end of busy George St, Sydney CBD lies an unexpected gem – the Morrison. A cheeky bar with a rustic diner vibe sets itself apart with its energy and eagerness to please. Don't let the term 'bar' deter you from reserving a spot for your work associates, the setting still allows for conversation – tables are substantially separated and non-distracting tunes in the background. Save it for a Friday evening, and if you decide, you can stay for as long and late as you like.
ORDER
You can watch centre stage as Australia's finest oysters are shucked-to-order. Begin with The Morrison's rock oysters; the lemon tree and the Macleay river are equally as fresh and tasty. These won't fill you so man-up and order the dry aged hamburger on brioche served with duck fat chips for your main; and a side of cabbage parmesan slaw. Otherwise, the slow cooked pork hock is perfect for a big group comfortable with sharing (too large for one). The choc brownie with caramel popcorn is a crowd pleaser on the sweet front. Order it along with the single malt Glenmorangie scotch on the rocks.
DRESS
Smart casual. Try a check shirt, shawl collar knit, smart pant and some lace up boots.
Morrison Oyster Bar
225 George St, Sydney | www.themorrison.com.au
5Cho Cho San
With a philosophy of bringing the big-city buzz of Tokyo to Sydney, restaurateurs Sam Christie and Jonathan Barthelmess set on a joint venture to deliver their interpretation of Japanese Izakaya. This acclaimed restaurant is set in the hip, high-density suburb of Potts Point and with it comes a great atmosphere making it the perfect place to entertain. If it's not the outgoing staff that impress your clients, the award-winning minimalist interior – an exposed kitchen on display and concrete bar will have them talking for days.
ORDER
Cho Cho San's dishes are better enjoyed shared with the ability to sample a large portion from the menu. The pork katsu steam buns are delightful and work great as a starter along with some chilli edamame beans. The sake and wine list is extensive and perfectly tailored to match the cuisine with a punchy cocktail menu changing seasonally. Choose the Okuharima 'Miyanoi' Hyogo, flavours of robust burnt brown rice and porcini mushrooms. Sip the sake with pickled hiramasu kingfish, a light unique dish with a subtle bite; and the red miso udon noodles, soft minced pork in a Korean chilli paste.
And finally, not for everyone but well worth the risk, green tea ice cream in a soft serve.
DRESS
Effortlessly sharp in dark jeans, long sleeve tee and a lightweight jacket.
Cho Cho San
73 Macleay St, Potts Point  | chochosan.com.au