Elevating the relaxed LA aesthetic at County Ltd.
A thoughtfully curated homewares store with a dedicated menswear section, you will find County Ltd. in the exuberant hip streets of LA neighborhood, Silver Lake.
Utilizing a deep focus on a distinct relaxed aesthetic in menswear, the store's appreciation of details is also apparent in its offering of one-off vintage homewares sourced from Japan and Europe in addition to some beautiful American designs.
Standout apparel items include boxy, earthy, outerwear by Japanese label, N.Hollywood and plush sweatshirts in LA label, Lady White Co. in punchy colors.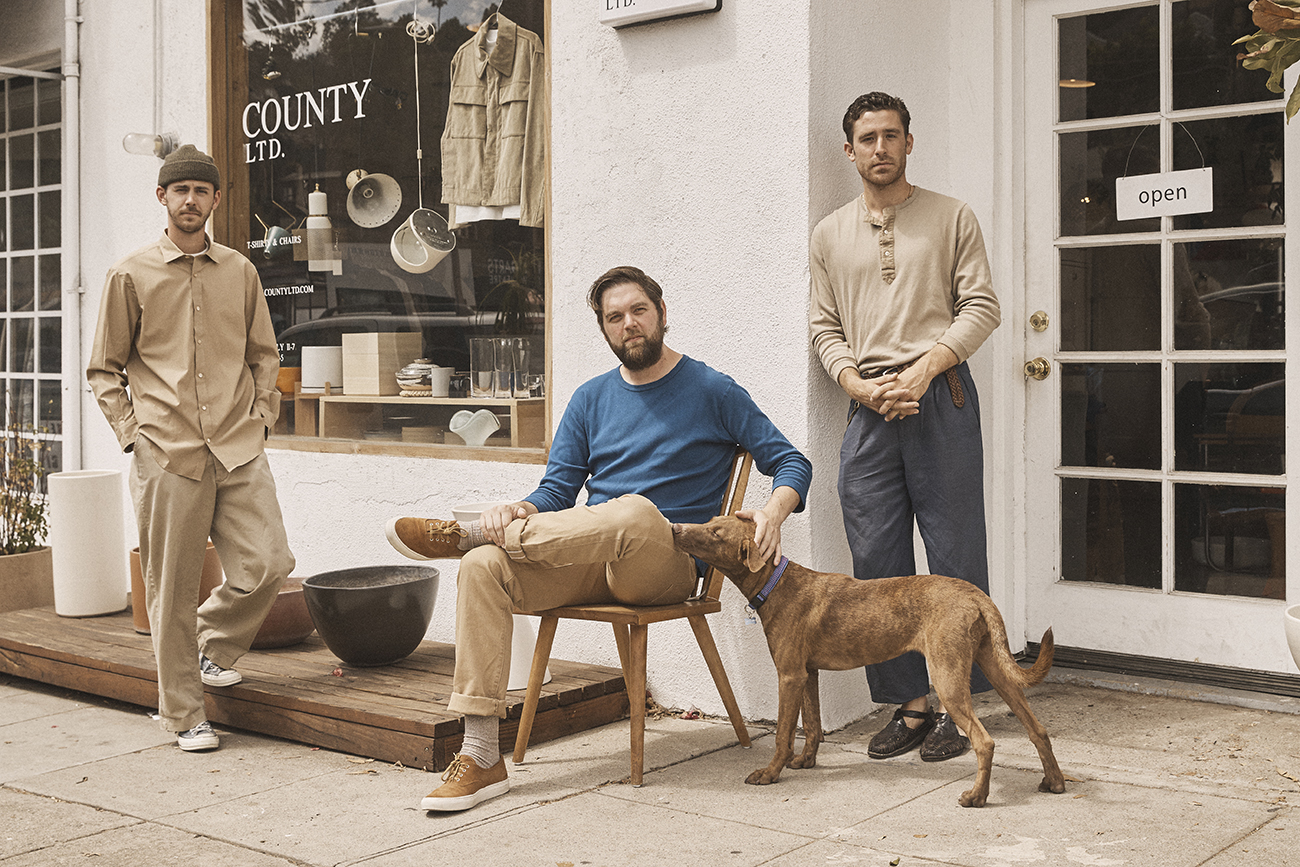 Where does the name come from?
The name came about when we were all discussing the basis of the store. With our in-house brands being Lady White Co. (men's clothing) and Counter Space (interiors) we wanted to create a welcoming space, which could contribute to the neighborhood. Our goal was to inspire customers by adequately representing brands in a well thought out space. We try our best to embody our slogan, "T-shirts and Chairs".
What are you looking for when you buy for County Ltd.?
We seek new and vintage products with a focus and attention on detail and materials. To be able to provide a space that is full of quality pieces intended to last is very important to us. It's all brands and items we respect and admire. And of course, we do our best to buy pieces you wouldn't find anywhere else. It's a blend of "unique" but still very universal and functional.
What's the hardest part about owning and running a store right now?
Space!
What are your individual roles in the business?
The store is made up of four owners, Taylor Caruso, Phil Proyce, Joe Lorens and Kirill Bergart. Operations are always changing and evolving, but when we get to the bottom of things, myself and Phil are the t-shirts and Joe and Kirill are the chairs.
Why is Silver Lake the ideal location for County Ltd.? What do you love most about the area?
We wouldn't have it any other way. Being in the Silver Lake area has helped County Ltd. become what it is today. Silver Lake has seen a lot of growth and continues to do so, with creative minds moving from all over. We love being able to introduce ourselves to the newcomers and getting to witness the community's growth. Being placed in between the Franklin and Silver Lake hills on Hyperion and watching new businesses opening all around us is very exciting. It gives off a small town feel while being so close to the Sunset Junction.
Why should a store focusing on quality over quantity & one-off items like County Ltd. be relevant to today's consumers?
I think this type of consumer mentality should have never been forgotten. The attention to detail in all of the vintage and clothing we carry is the very reason we are here. In such a time of fast fashion, its essential we express our respect and admiration for the brands we stock.
Visit County Ltd.
1837 Hyperion Ave, Los Angeles, CA 90027 | http://www.countyltd.com/ | @countyltd